Getting started with solo RPGs (crosspost)
Single-player RPGs are one of the most creative, fastest growing, and easily accessible types of tabletop gaming. The indie game marketplace, itchio, hosts almost 1000 games tagged as "physical" solo RPGs. With so much choice, how do you get started?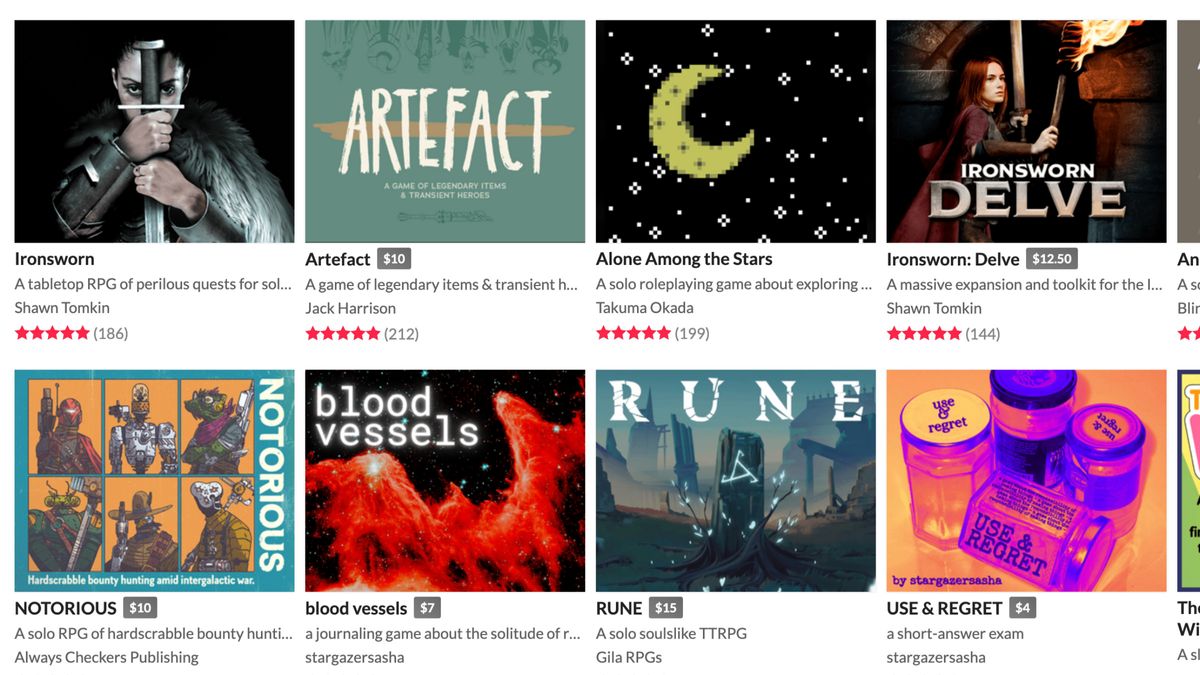 📣
The first part of this article is a crosspost from the excellent new newsletter
The Soloist by Patrick Buechner
. I highly encourage you to subscribe. At the bottom, I also share 2 of my own personal recommendations for solo RPGs.
Single-player RPGs are one of the most creative, fastest growing, and easily accessible types of tabletop gaming. The indie game marketplace, itchio, hosts almost 1000 games tagged as "physical" solo RPGs. With so much choice, how do you get started?
I turned to some savvy game creators for suggestions. Their advice is to start simple, find something that captures your interest, then dive in.
"Find something small and focused that intrigues you before jumping into something bigger and more complex," advises Anna Blackwell, creator of DELVE, RISE, and other solo games. "Artefact was my intro."
In most fantasy games, players seek wondrous treasures. Artefact shifts the perspective to a single magical item as it passes through different hands. For a sci-fi take, Bucket of Bolts follows one spaceship and its captains over time.
"Having a properly defined structure is a must," advises Chaoclypse, game developer and actual play creator. "MIRU is a great starting point for that reason. It has a lot of board gamey aspects to it, which I think is great for people starting out."
✅ Lingo check: "Actual plays" are video or audio recordings of RPG play sessions.
In MIRU you're on a quest to destroy the robot that killed your brother. You'll explore a randomly generated map, manage survival resources, and build-up your character.
"For the more creative writing side of things, I recommend the Alone on a Journey journaling games by Takuma Okada," said Thomas Manuel, game designer and journalist. "They're all games about a lone person exploring lost or ancient places - very moody, reflective, and creative prompts."
✅ Lingo check: "Journaling games" are solo games where randomly selected prompts are catalysts to imagine settings, stories, and characters. Players use a journal to take notes, write dialogue, and create art to enhance the story.
Anna Blackwell's Apothecaria is another excellent journaling RPG. You assume the role of a village witch creating potions for townsfolk, adventurers, and monsters. You'll fill your journal with drawings of ingredients, stories of mischief, and recipes for the potions you've created.
For a traditional fantasy experience, Thomas recommends Ironsworn by Shawn Tomkin. "It's a popular choice for a reason: it comes with a very well-designed and free rulebook and the official actual play Ask the Oracle, helps with learning the rules."
The podcast was what piqued my interest in solo RPGs. My brother and I have just started a co-op campaign in Shawn's latest game, Ironsworn: Starforged. We're loving this sci-fi evolution of the original game.
"I'd recommend just diving in," continued Chaoclypse. "The first few times can seem daunting … but knowing ahead of time that it won't be that smooth initially can help."
The Soloist's steps for diving into solo RPGs
Visit itch.io - this link will take you to all games tagged as solo RPGs
Read a few descriptions - pick one that looks interesting
Purchase or download for free - an account isn't required
Set aside a couple hours in a comfortable space and play
📣
Thank you Patrick for starting such a cool newsletter! You can see his new issue about Metroidvanias and finding great art resources
on his Substack
.
Sword & Source's top 2 solo RPGs
I have two solo RPGs I want to personally recommend. Both of them have offered me tons of fun, excellent random tables, and great ways to kickstart my own worldbuilding.
Ironsworn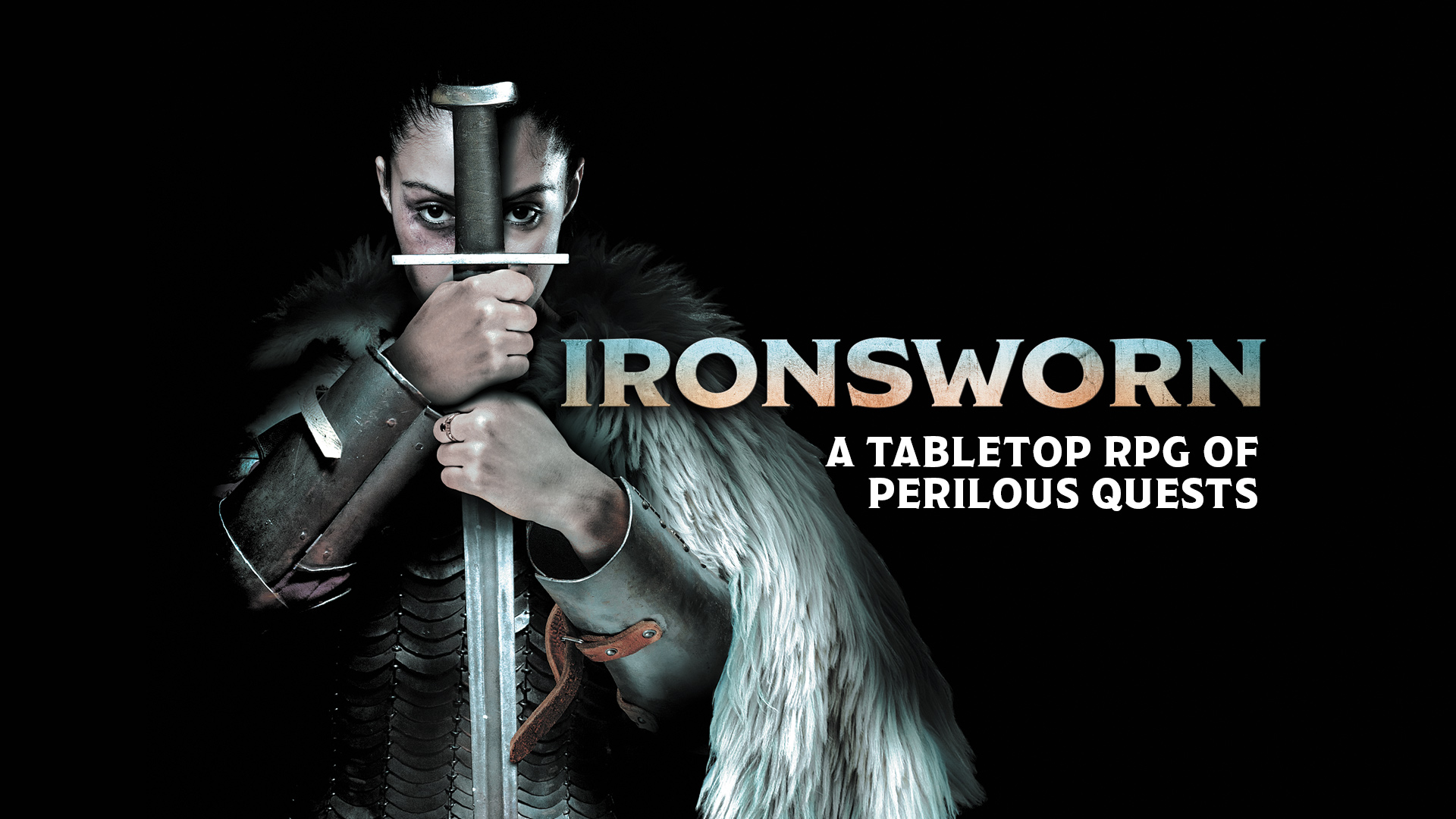 I know this game already came up in Patrick's recommendations above, but I love it so I'm giving it a second vote here. Ironsworn can be played with a group + GM, with a group + no GM, or solo. The game system is really flexible and offers a lot of fantastic random tables to support your game.
It takes place in a rugged, isolated frontier setting which is perfect for grim heroes and harsh wilderness survival play. I recently released a Viking Generator on Here Be Taverns which I think would pair quite well with it.
The game is popular so there is a lot of supporting material around it, including a supplement focused on dungeon crawls called Ironsword: Delve. I often reach for it when thinking up cool dungeon names and ideas.
You are the Dungeon
You are the Dungeon is a solo game you can play quickly with an amazing hook: What if your character was the dungeon? It's so much fun to think through how your dungeon was created and how it's going to attract adventurers to their doom.
This is one of the best solo games for rapidly building an adventure site with a deep history and personality. If you enjoy worldbuilding as much as I do, this game is for you.
Up next: Building games with AI
My next big project is a video game creation platform with AI-powered maps, characters, and gameplay. Every game will make an impact on your expanding world, surprising you with new choices to advance your story.

I'll be sharing progress in the coming month in our Discord. Join us there to chat about the project and tell us about your solo RPG adventures.
Thanks for reading!